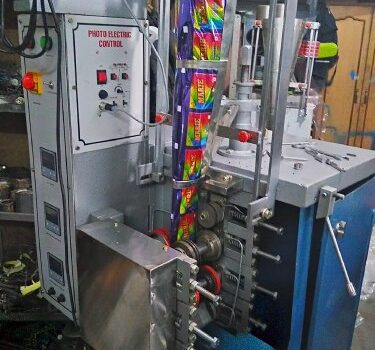 15 July 2022
The pharmaceutical industry uses the pouch packaging machine the most. It is also commonly employed in the food and beverage, cosmetics, and personal care industries. Pouches exist in a variety of sizes, can be made out of materials such as paper, plastic, aluminium, etc., and work with a variety of goods that are in the form of liquids, powders, or granules.
Pouches are typically used for promotional or trial packs, or by low-income or price-conscious enterprises who choose inexpensive packaging because they are more cost-effective.
The use of pouch packing is anticipated to rise across a wide range of sectors on the Asian continent, according to the most recent market reports. Because of its low cost, reusability, customizability, recyclability, and mobility, pouch packaging is expanding quickly in a variety of industries, including those involving oils, lubricants & solvents, pharmaceuticals, and cosmetics.
The market is seeing high-paying chances due to the current trends, such as single-serve packaging and customers buying fewer of products like shampoo, oil, sugar, lotions, and others.
SMART PACKAGING MACHINES
Smart Packaging Systems offers creative and specialised packaging solutions, regardless of your need for a lotion packing machine, pharma powder pouch packaging machine, or coffee pouch packing machine.
following machines are included in the filling and sealing machine portfolio of Smart Packaging Systems:
Water Pouch Packaging Equipment
its versatile, low-maintenance equipment operates on the idea of gravity flow filling.
4 side seal and twin pouches are just two of the pouch forms that are compatible with these devices.
These water pouch packing machines are simple to use and fill pouches with a consistent volume of water. Without moving any pieces, the machine's mechanism can accommodate pouches of various sizes. Impulse heating is a technology used by the sealing machine.
Granules/Powder Packaging Machines in Pouch
Powders are filled utilising the positive displacement technique using this unique VFFS packaging equipment. For freely flowing powders and granular items like sugar, tobacco, coffee, salt, and pepper, volumetric multiple fillers are the ideal choice. This device increases output rate while maintaining process efficiency.
Oil Pouch Packaging Equipment
packing of liquids and viscous goods like oil, honey, mustard paste, jam, and shampoo is excellent for this filler. The ability to create pouches in a wider variety of sizes and forms is this machine's key advantage. Additionally, it gives the producer or operator complete control over their packaging procedure.
If pouch packing is your preferred format, Smart Packaging Systems is the industry-standard machine vendor. Since its founding two decades ago, Smart Packaging Systems has specialized in packaging solutions. Today, in addition to having a top-notch design and manufacturing facility, we also have comprehensive knowledge of the industry and technology.
Conclusion
Through our nationwide network, we provide authentic spare parts and provide prompt and efficient customer support even after the transaction. This enables Smart Packaging Systems to ensure the effective operation of the packaging equipment for the greatest levels of productivity and performance from our customers' businesses and exceptional returns on investment.
types of packaging machines pdf
packing machine price in kerala